Matthew 25:29

"For everyone who has will be given more, and he will have an abundance. Whoever does not have, even what he has will be taken from him."
We are a month into our new year. As we look forward to see what our role is in furthering God's Kingdom here on earth, we hope to reflect upon the simple things of what we can do now in our neighborhoods, our local communities, our country and the world beyond. This article written by Dr. Scott Rodin, simply puts what we can do TODAY in our communities to have a transformative role in our society.

Stop. Pray. Do the Unexpected
I am challenged by Scripture's consistent teaching that Jesus saw people in the context of their entire life's journey and responded accordingly. The woman at the well was not a despised Samaritan of dubious reputation, but a woman who was spiritually lost looking for living water. The man at the side of the road in Jericho was not an annoyance, a speed bump on Jesus' way to Jerusalem, but a man whose entire life of dependence, subsistence, hopelessness and despair came down to this one divine encounter. The children who were disturbing others were called to Jesus' arms, and as he embraced them he saw their futures impacted and changed forever by this engagement with the savior of the world.
What challenges me is that I so often see people only in the instance of my encountering them, what I call the 'static moment'. I seldom stop to consider them in the context of their journey. Yet I am convinced that God wants us to lead with an openness toward the Holy Spirit working in us that we might be sensitive to the bigger picture that is always going on around us.
SfK Life has signed an online Memorandum of Understanding with NOW Mission in Korea to collaborate in several areas of ministry. NOW Mission is a Korean mission agency focusing on BAM. Please pray that this partnership will bear much fruit to God's Kingdom.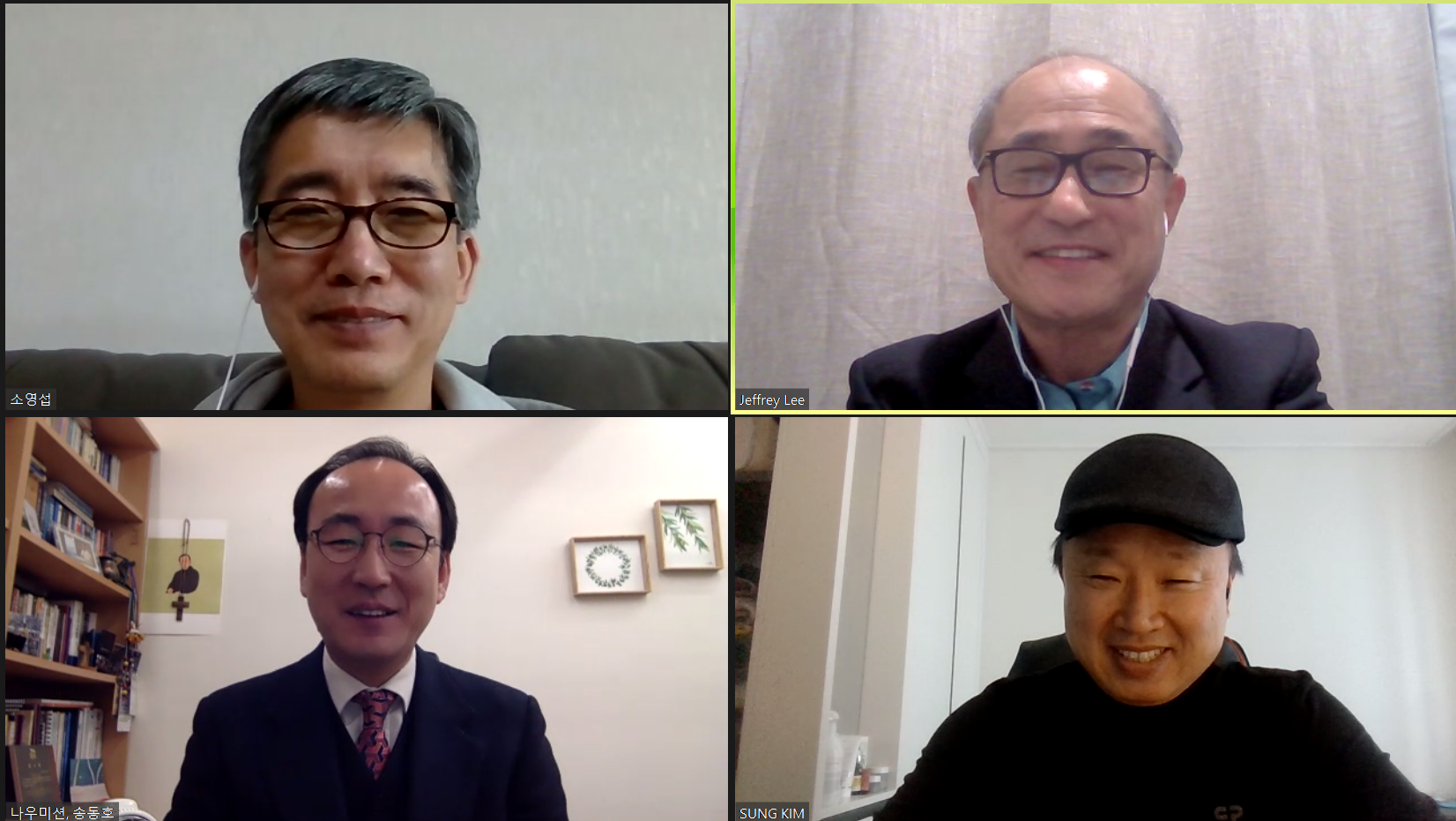 Joybells America, SfK's marketing arm in the U.S., has been recapitalized and welcomes Jeanne Song as Director of Sales to cover marketing efforts in the east coast markets. Please pray that she may receive God's favor in making the initial breakthrough.
Joybells America has agreed in principle to partner with Cconma USA in promoting an online Impact Purchase campaign (Shop4Impact) on its SeoulMills.com e-commerce site. Please pray that this partnership will produce an innovative solution to empowering missional businesses through marketing their products.
MOI Coffee in Phnom Penh, Cambodia has become a member of SfK MB Community. MOI (Moment of Inspiration) Coffee used to be part of Hesed Cambodia, but has spun off for independent and efficient management. SfK is discussing with MOI Coffee an impact investment opportunity during the Q 1 of 2021. Please pray that this newly defined relationship may be beneficial and fruitful to God's Kingdom.
SfK MB Community member in Egypt has secured a distributorship of Korean-made chemical products in Egypt. Please pray that God will make way in this predominantly Muslim nation.
SfK Life Board Meeting was held in January and approved the 3-year strategic plan and 2021 business plan. Please pray that the board will expand its role in providing sound governance for SfK Life's ministries.
SfK MB Academy held its first session for Post BMT in January, with Missionary Minyoung Jung leading the discussion about global missions trends. It was a blessing to all participants.
1.
February 2021:
SfK Korea board meeting
will be held online.
Please pray that the meeting will stay focused on governing strategic and essential issues.
2.
The second session for Post BMT
will be led by
Professor Paul Mindong Lee of Wheaton College
.
Please pray that the session will bless all participants with the Kingdom wisdom on selecting their business strategies.
3.
SfK Korea
plans to
invest in a crowdfunding entity under establishment in Korea
to capitalize on the platform to finance the investments in missional businesses.
Please pray that the establishment process will go smoothly and sound standard operating procedures may be established.
4.
August 2021: 16 Week
SfK MB Academy BMT 2021.
Please contact
info@sfklife.org
for more information if you are interested in taking part of this highly effective training opportunity.
5.
SfK Network
is exploring
collaboration opportunities with a BAM company in the Netherlands
in the Caucasus and Central Asian nations. Three opportunities in agriculture have been identified in the Republic of Georgia and Uzbekistan.
Please pray that this effort will lead to delightful and fruitful collaboration for His Kingdom.
Thank you for standing with us through prayer and financial support in equipping and empowering missional businesses in Asia and Africa, particularly when they are struggling to overcome various challenges arising from the COVID-19 pandemic.
. . .

We pray that our Lord Jesus Christ bless you abundantly so that you may become a greater blessing to people in need around you and around the world.
Consider a charitable contribution in partnering with SfK
To get the latest BAM news and updates on SfK Ministries, please subscribe below